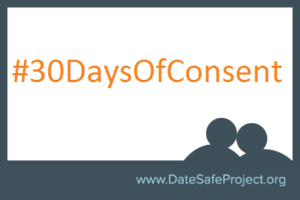 April 1st is the beginning of Sexual Assault Awareness Month. Sexual assault is one of the most heinous crimes, and a crime that can happen to anyone at any age. One of the ways to reduce sexual assault long-term is to discuss the importance of consent and respect in relationships – while also providing the important skill sets for doing so. That is why The DATE SAFE Project is launching a social media movement with our #30DaysOfConsent campaign.
#30DaysOfConsent is more than just a hashtag; it is a way for users from all over the world to take a stand against sexual assault by demanding consent and respect for all people in their daily lives. During the month of April, we will be posting tips and strategies on how to protect those you care about; how to intervene when a stranger is in need of help; how to build a world of consent and respect for you and those you love; and how to help sexual assault survivors be more supported coming forward.
We will also be asking you, our community, to engage in this important dialog. Why is consent important to you? How do you require respect in your relationships? How will you teach your children about consent and respect as they grow older?
Consent isn't something that we should have to suddenly learn about as adults; consent should be taught as a way a life. Consent should never go away, including once you find yourself in a committed relationship. Consent allows for a deeper and more passionate union. Asking someone for sexual intimacy shows that you care about and want to honor their feelings, wants, desires, and boundaries.
We as a society need to transform our culture into one built on respect and consent. In doing so, we will create a culture where no forms of sexual assault will ever be tolerated by society. Teaching respect and consent is one of the ways we can achieve this goal.
Take a moment to reflect on how you can use consent in your life as a way of not only bettering your personal life, but also teaching others to respect the lives of those around them. #30DaysOfConsent is much more than a 30 day campaign – it should be something we live by every day.
We need your help to make #30DaysOfConsent a success. A movement is only as powerful as those who make it MOVE! Using the hashtag #30DaysOfConsent, will you please become part of the conversation? Let us know why consent is important to you on Twitter and Facebook. Create a movement sign like the picture below and take a picture of yourself holding it. Send the picture to us. Plus, post it on all your social media sites with the hashtag #30DaysOfConsent and have your friends do the same. If you are camera shy, then use the hashtag #30DaysOfConsent to in messages you share with others.
As part of the #30DaysOfConsent campaign, we ask that you use this powerful hashtag on Facebook and Twitter to give us your thoughts on consent and respect and share examples of consent in your lives.
Will you please share our posts; tweet our tips and questions to your followers; start a conversation with your teenagers and people of all ages; and Create a movement sign?  Will you help take a stand against sexual assault?
Join the movement to end sexual assault.
#30DaysOfConsent